Oh February, the second of all the months
January has gone and now it is your turn
You are also well short
Oh what it would be to be February
I Love Pancakes and February But Mainly Pancakes by Oscar Reed
That's right, with such a beautiful poem dedicated to the most romantic of all the months to kick off this blog post dedicated to music (a thing that I love) – you'll never guess the theme of this month's Set The Record Straight… It's fucking heartbreak!
 January was all about new beginnings and discovering new things, February is all about heartbreak (or romance too I suppose) and pancakes. I could rattle off hundreds of depressing heartbreak songs, but that would be dull and make everyone cry which is not always the intended effect of my writing – but I do get it if you were moved by my earlier poem.
Here is a collection of songs that are happy heartbreakers, a collection beautiful songs that sound so upbeat but are actually really about the opposite. Also, by picking this theme it allowed me to make a general exception to my anti-GIF agenda in blogs to include the following…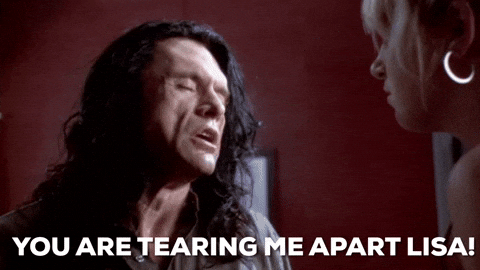 If you feel like Tommy as we head into March, here's a few tracks to soothe your soul.
You're Breaking My Heart – Harry Nilsson

A song that starts "You're breaking my heart, you're tearing me apart" is very evidently in keeping with the theme of heartbreak, but just where does the happiness of the situation come in? Well I suppose it comes in with the fact that this otherwise depressing statement is swiftly followed up with a "so fuck you". The fact that – as with a number of other Nilsson songs – the song also features a clashing piano that you can't help but smile to also helps the case. As a great man once said "you might be able to do a great cover of a Harry Nilsson song, but you can never fucking write a Harry Nilsson song" and no one has ever written a happy heartbreak anthem quite like this one.
Train in Vain – The Clash

I feel like boring you with a certain quantity of content for every single song is a little bit too formal, so here's why this made the cut. The Clash are amazing. This song is a particular favourite of mine. Why wouldn't a song about someone not standing by you when you expected that from them fit the bill? Exactly. Just enjoy the music and enjoy this micro-ramble.
Operator – Lapsley

Boy, do this song and myself have a lot of history. However, that is completely beside the point. This song is an absolute banger and for about a year was a staple of every drinking session I had (aka, it was a daily feature of my life), however the subject matter is so much more bleak than the beautiful vocals and lovely disco goodness would have you believe. But again, just enjoy a banger for being a banger.
Bonnie Prince Billy – I See A Darkness

Music fans will know that this is not the original version of this iconic Will Oldham song. The original was covered by Johnny Cash, and both of those versions definitely stress the heartbreak (even if Oldham says romantic heartbreak wasn't the subject matter of the song) however neither of them really stress the happy part of the theme. Queue this, the re-recorded version of the song. It leaves you walking with a bounce in your step and a smile on your face, while the lyrics chime on about how you feel a sense of desperation and a depression that you hope your best friend realises they give you hope throughout. Cheery, right? But enjoy this one as you bob down the street for sure.
You Can Call Me Al – Paul Simon

This is one of the ultimate feel good songs, an absolute hammer tune dropped at student night aplenty. However, again the subject matter brings the vibe down a little. The song is essentially about a midlife crisis that is affecting Simon (or the fictional version of him who is speaking in the song – yeah, I listened to theories about how the self on record can be just an enacted version of the true self so deal with it) and his relationship with his wife. Anyway, enjoy being happy in your heartbreak you lonely lovely bastards.